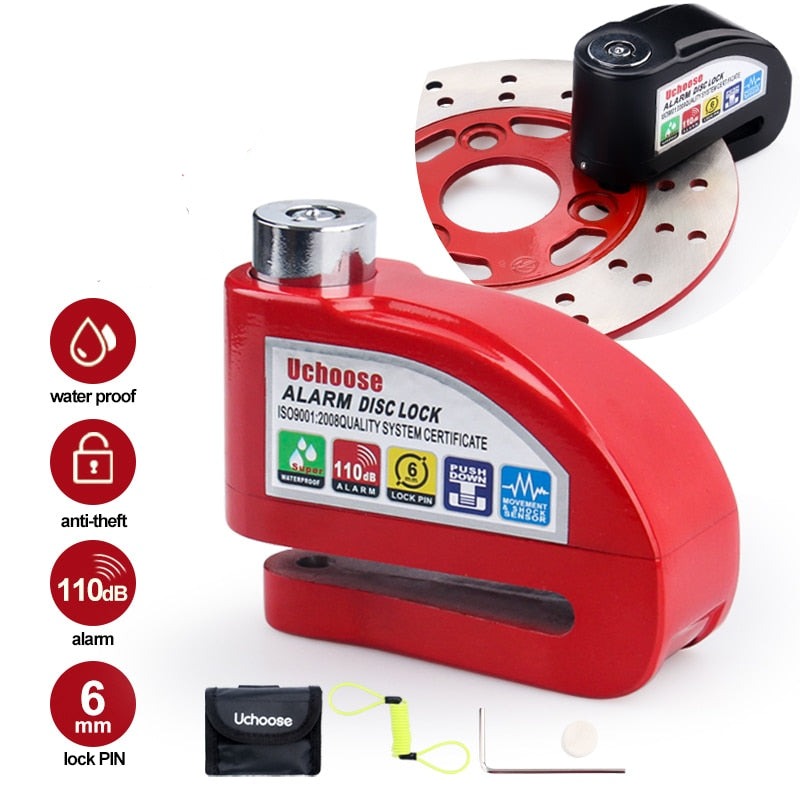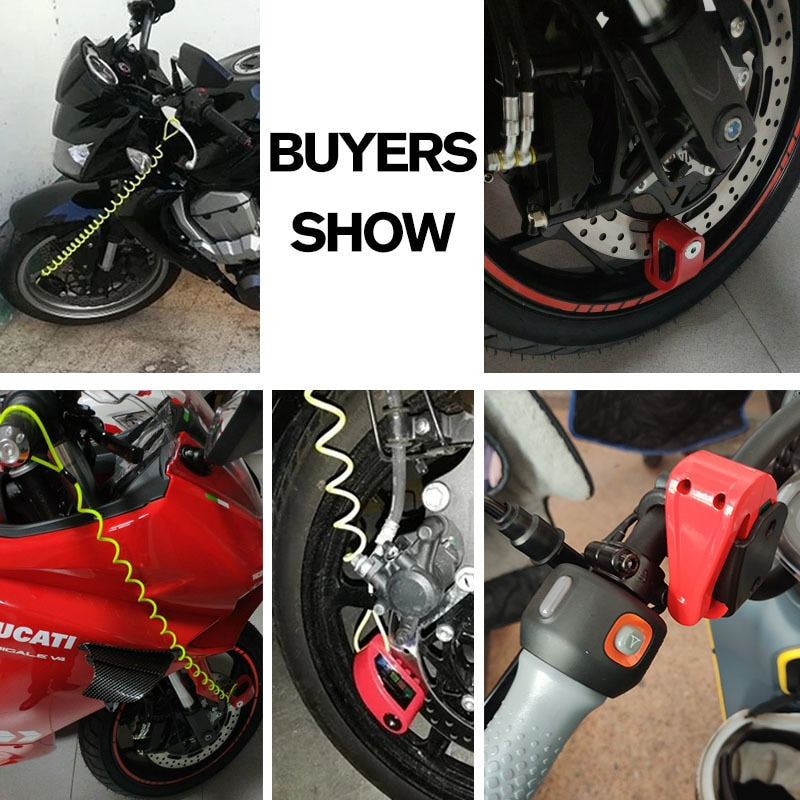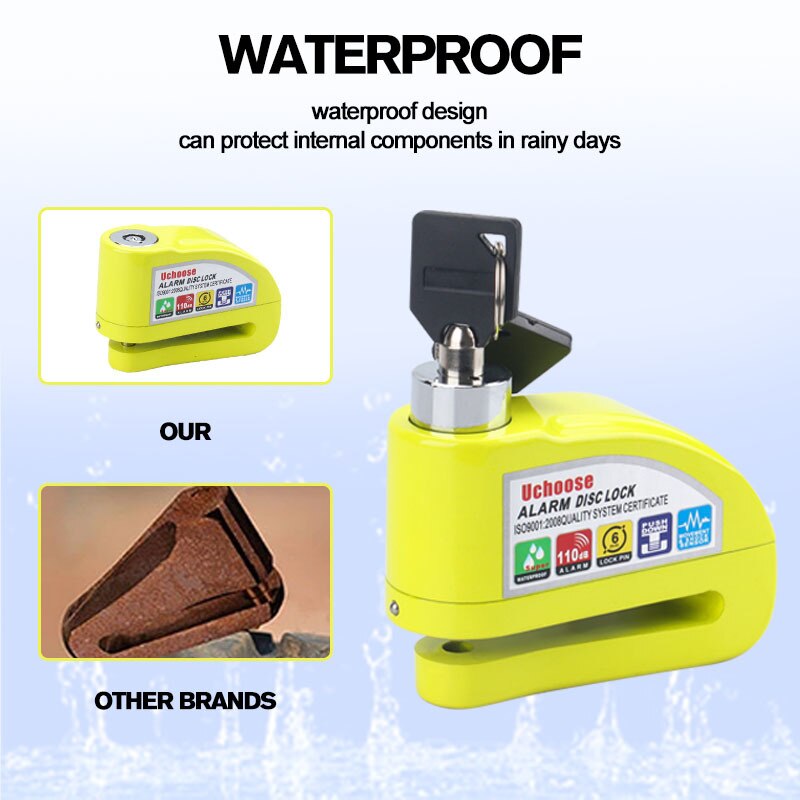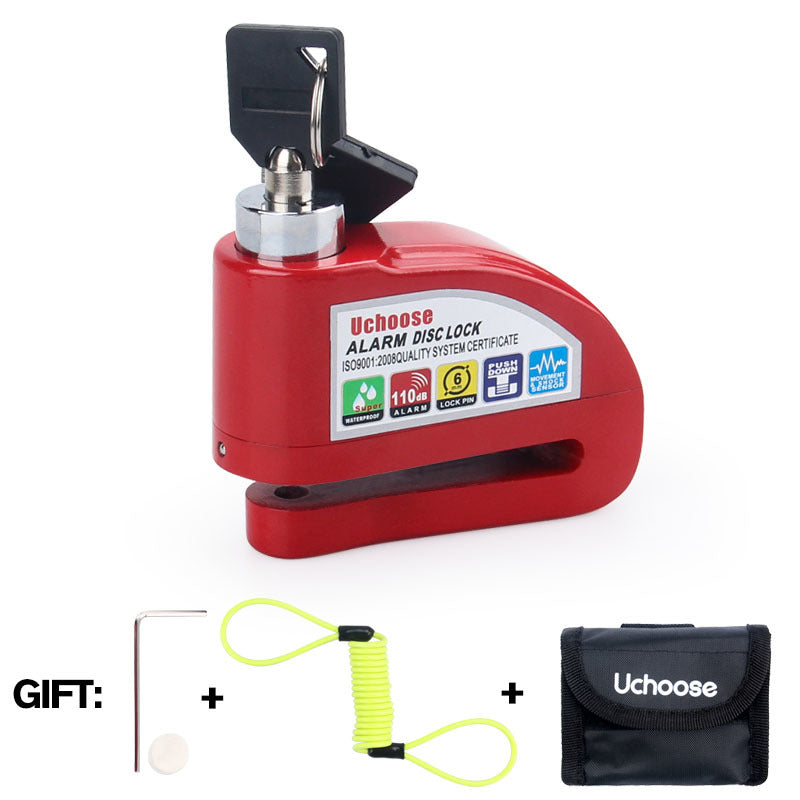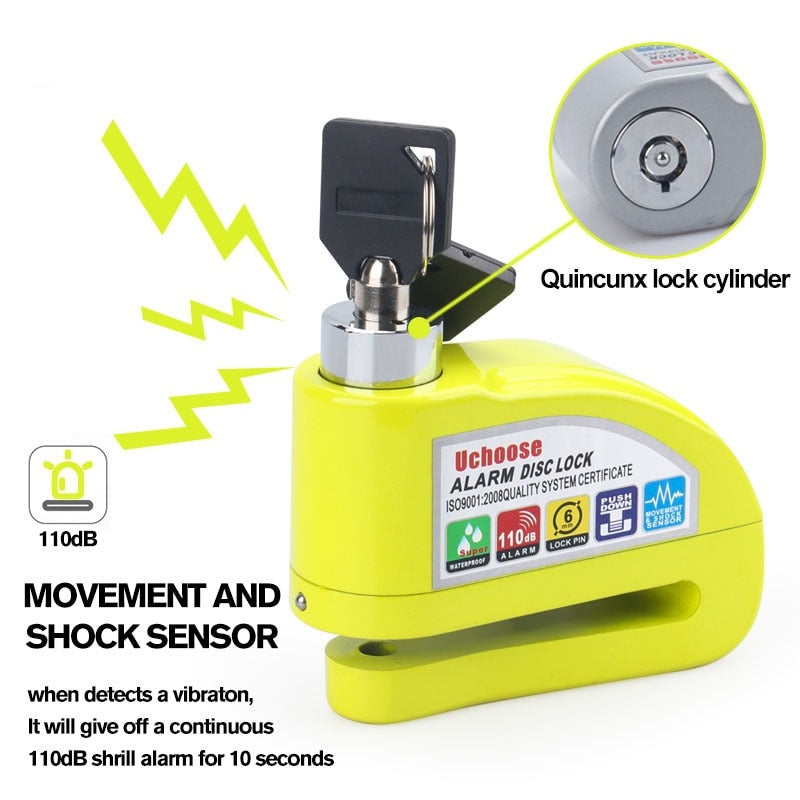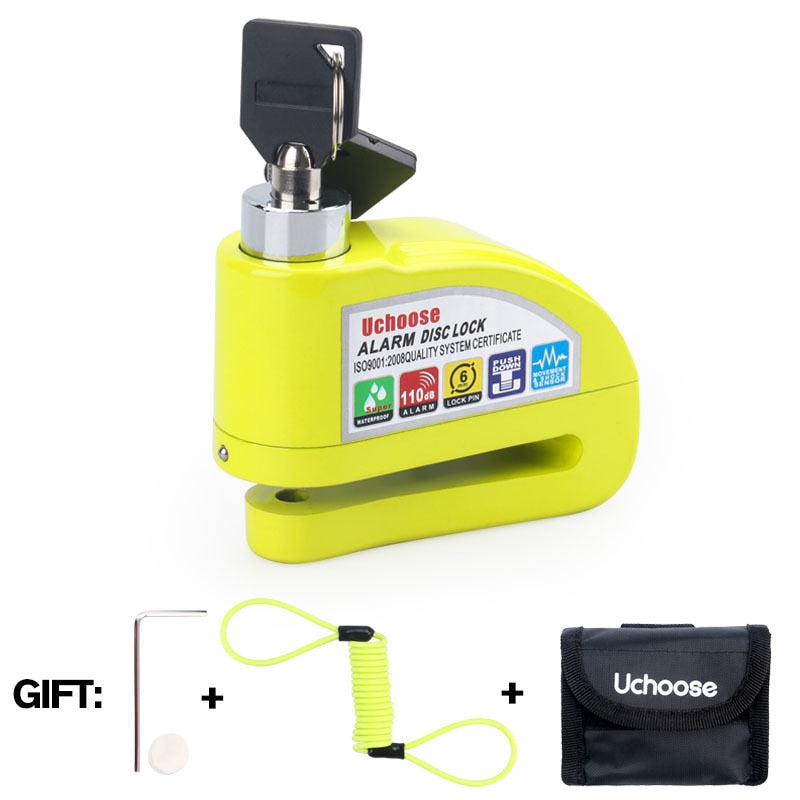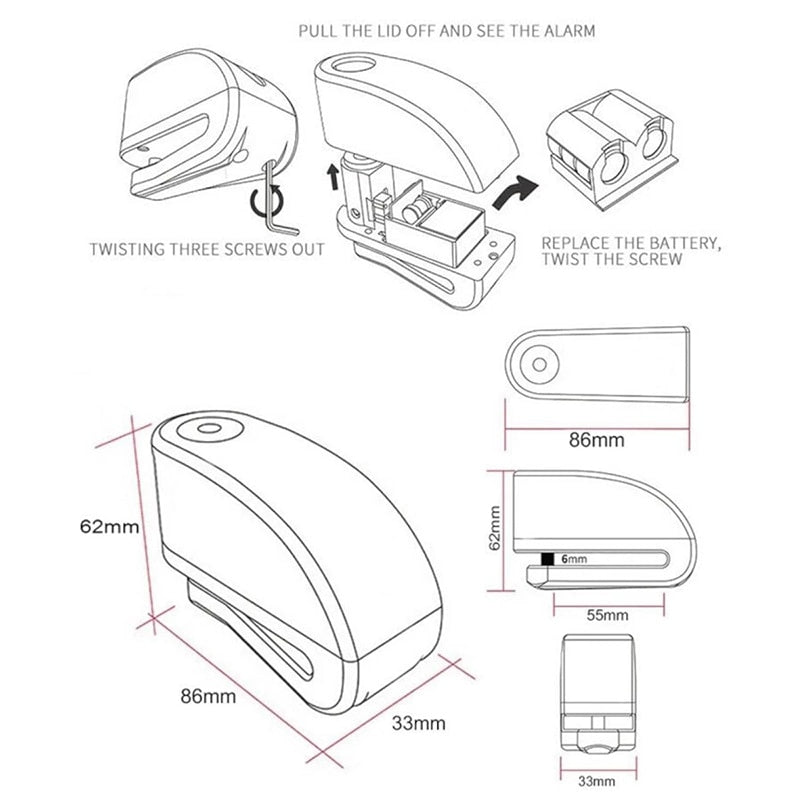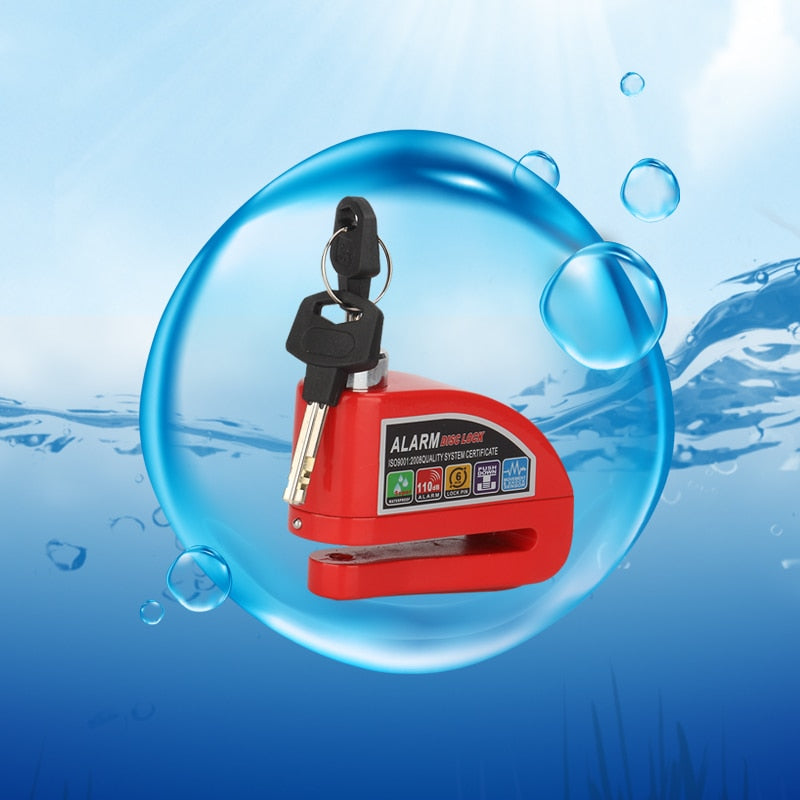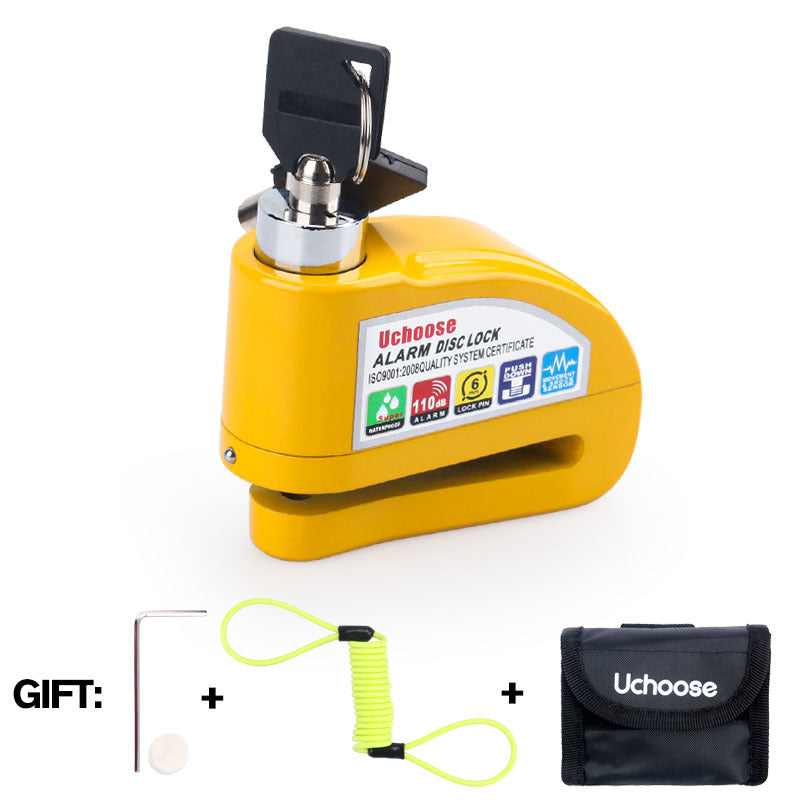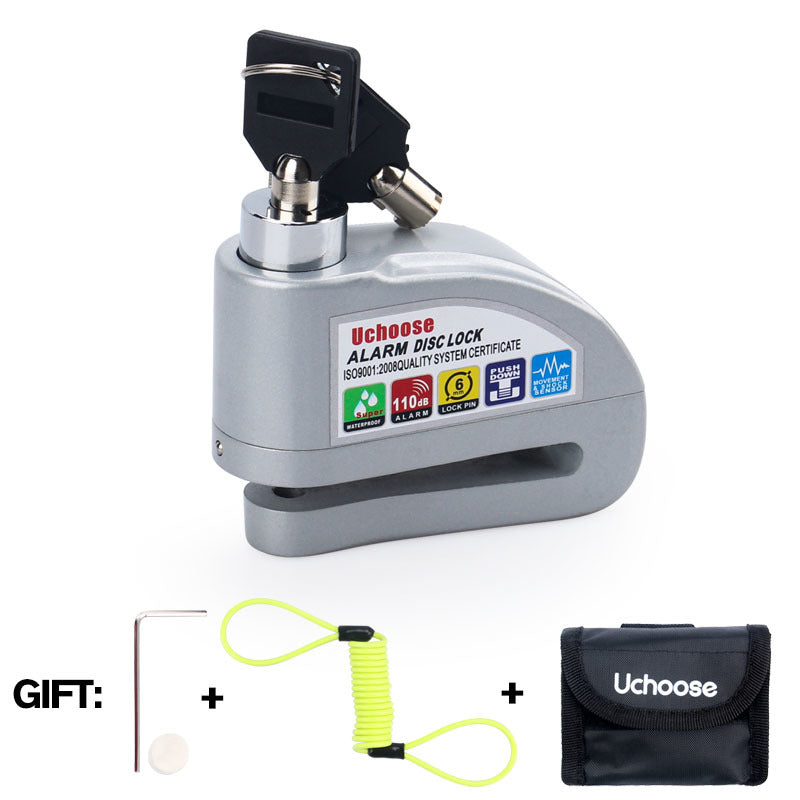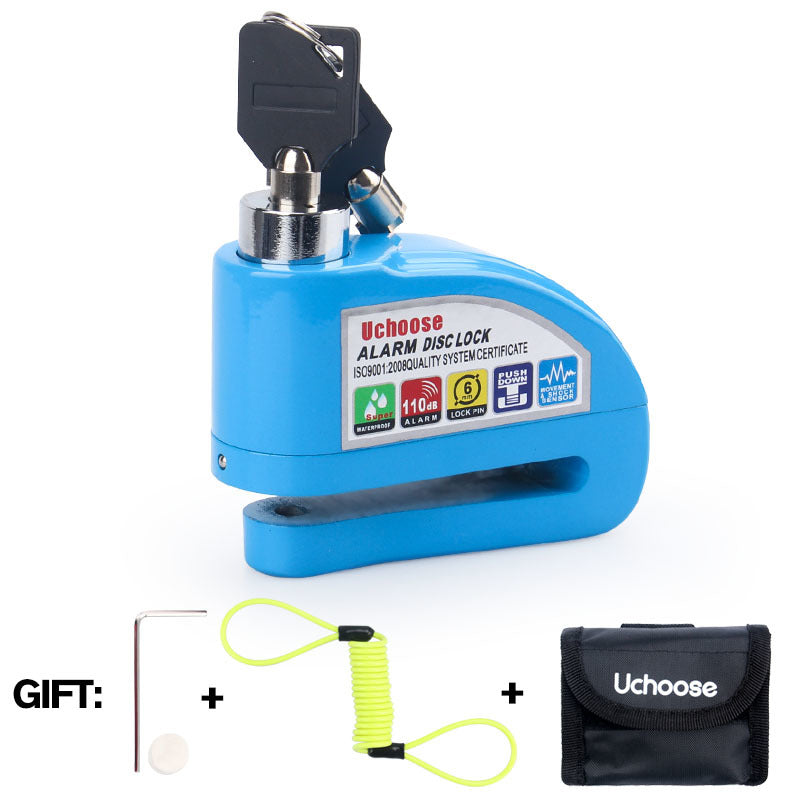 Motorcycle Brake Lock + Alarm
Metal Motorcycle Scooter Security Anti-theft Wheel Disc Brake Lock Alarm, with movement and shock sensor.
Features:
Security anti-theft lock universal for electric scooters, motorbikes, or bicycles with disc brakes.

It works by locking the disc brake (stops the wheel from turning) AND has a motion-activated alarm, to prevent tampering or movement.

Self-arming.

Simple and convenient operation. Click the lock cylinder, it will be locked.

Support warning alert function. There will be alarm sounds if the lock is shocked by someone.

Waterproof and weatherproof.

Bright color for high visibility, acting as a visual deterrent to thieves.
Instructions for use:
Remove the rubber spacer in the jaws of the lock. Retain this spacer as it is also the HEX KEY, with which to remove the screws to replace batteries.
Position the lock opening on either of the vehicle's disc brakes and press the locking pin (underneath where the key is inserted) so that it locks through the disc brake. It will be locked and you will hear the sound "DU", which warns that in 5 seconds' time, the alarm will become armed.
If the alarm senses shock or movement, it will sound like a warning beep. If further movement is sensed within 5 seconds, the alarm will sound and continue sounding until the movement stops. After 20 seconds with no further vibrations or movement, the alarm will stop and automatically re-arm itself.
The scooter owner has a window of 5 seconds in which to use the key to open the lock, before the alarm sounds. The alarm ceases immediately when it is unlocked.
Maintenance: Spray lubricant in the lock every 3 months to keep it in good order.
Battery Replacement:
When you hear the constant sound "Ge, Ge, Ge...", or the alarm sounds for less than 10 seconds, the battery needs to be replaced. Use the provided spanner (the L-shaped bar connected to the rubber spacer to remove the four screws, remove the top cover and replace the battery. Please pay attention to the "+" and "-".

In order to replace batteries easily later on, please retain the space/hex key provided.
OUR ADVANTAGES
✔ 30 Days Money Back - No Questions Asked
✔ Tracking Number for every order
✔ Secure Payments via Credit / Debit Card or PayPal
✔ Fast Order Processing
✔ Top Quality Products
✔ Every product is inspected before shipment
✔ 24 / 7 Customer Support

SATISFACTION GUARANTEE
We claim that we offer the most innovative products in the world, so we offer a 30 days money back guarantee for all products.
If you have not had a positive experience with us, we will do everything we can to make you are 100% satisfied with your purchase.
We know that online shopping always involves some risk, which we want to take from you. We guarantee 100% secure payments and a 30 days money back guarantee!
Our customer support is available 24 hours a day, 365 days a year, if you need help or have questions about your order do not hesitate to contact us via online form on the website or on suport@luxarmy.store